Suspended license car insurance
Was your license recently suspended due to a DUI offense, unpaid tickets, or a major traffic violation? If you're stuck with a suspended license, you may be wondering what it means for your car insurance policy.
Here at AutoInsureSavings, we frequently get emails inquiring about the impact that a suspended license has on car insurance. Some of the most commonly asked questions that we get include the following:
Can I get insurance with a suspended license?
How will a suspended license affect my car insurance?
Will I need car insurance with a suspended license?
Will my car insurance rates go up?
Will I still be eligible for car insurance discounts?
How long will a suspended license affect my car insurance rates?
While the consequences of a suspended license often vary depending on the individual and the insurance provider, we've provided some general information below that will help you get a better idea as to how your suspended license is going to affect you and your relationship with your auto insurance provider.
Can I get insurance with a suspended license?
It is possible to get car insurance with a suspended license in most states. If your car insurance revoked your
insurance after your DUI conviction or suspended license, then the first step that you should take to re-obtain car insurance is to contact your local DMV. They will let you know whether or not your state allows drivers to obtain and maintain car insurance with a suspended license.
If your state allows it, the next option is to get in touch with various car insurance companies to see if they will provide you with coverage. The easiest and most efficient way to do this is to use our advanced quote comparison tool at the top of the page. By entering in your zip code, and answering the provided questions honestly, we'll help you find a car insurance company that is willing to offer you car insurance.
While there are many providers that will still sell you car insurance, keep in mind that many of these providers will also have a list of stipulations that must be met for the policy to be finalized. Such stipulations may include providing proof that you are working to have the suspension removed, or a guarantee that your license will be reinstated after a specified time period.
How will a suspended license affect my car insurance?
If your insurance provider doesn't cut you off as a customer after your licensed has been suspended, you should consider yourself lucky. However, there's a good chance that you will not get away unscathed. In most cases, a suspended license, be it from a DUI conviction or major traffic violation, will prompt your insurance company to switch you to a high risk policy.
With the high risk label, there is no doubt that your insurance rates will increase substantially. Insurance for high risk drivers is significantly more expensive than standard car insurance. However, your provider may still allow you to qualify for discounts depending on your overall driving history. High risk insurance will also earn you a shorter leash with your provider. That means that they could very easily revoke for your insurance for what would typically be considered minor infractions.
Will I need car insurance with a suspended license?
Whether or not you need car insurance with a suspended license typically depends on you as an individual. There are circumstances in which a person's license will be suspended for everything but driving to and from work. If your suspension includes that or a similar exception, then it is absolutely essential that you have car insurance despite the fact that your license has been suspended.
If you are not the only person on your car insurance plan, you'll also need to maintain your car insurance to make sure that everybody else on the policy is covered. However, if there is another person of driving age in your household, it may be best to transfer your policy from your name to theirs.
If you opt to transfer your policy, or have the other driver in the household open a new car insurance policy under their own name, we strongly encourage you to use our advanced quote comparison tool at the top of this page to find the best rate available.
Will my car insurance rates go up?
It is almost guaranteed that your car insurance rates will go up after your license has been suspended. If your car insurance policy isn't completely revoked, then it will likely be changed to a policy designated for high risk drivers. Car insurance for high risk drivers costs more for less coverage.
The best way to get the most affordable car insurance rate after your license has been suspended is to actively shop around. With the help of our advanced quote comparison tool, you'll be able to find out which of the major car insurance companies is offering you the best rate for the amount of coverage that best suits your needs.
Will I still be eligible for car insurance discounts?
When covered by standard insurance, there are a myriad of discount available to drivers. From AAA discounts to
auto and home combo coverage discounts, drivers can often take a significant percentage off the amount they pay each month in car insurance.
Once your license has been suspended, your car insurance provider may opt to remove many of those discounts. They may determine that they do not apply to high risk policies. The best way to find out if you can get car insurance discounts with a suspended license is to contact your insurance provider directly.
Even if your provider does say that you can still get discounts on high risk insurance plans, you may want to check with them to make sure that any previous discounts you may have been receiving are either still active, or can be re-added to your current plan.
How long will a suspended license affect my car insurance rates?
The length of time that your suspended license will impact your car insurance varies on a few factors. These factors include:
The length of suspension
The reason for the suspension
Your state's and insurance provider's policies regarding suspended licenses
In order to find out how long your rates will be affected following the suspension of your license, it is best to contact your current insurance provider for more details. They'll be able to provide you with a more definitive time frame. They may even be able to offer suggestions as to how you can shorten that time period, or at least how you can lower your current rates.
Related articles FacebookTwitterGoogle+
Greg Fowler
I love to network, travel, and spend time with my children. When I am not doing that I am working on AutoInsureSavings or other websites. If I am working, the best way to reach me is via my Google+ Profile. On 05/03/2016 / Articles / Comments Off on Are you able to get Auto Insurance with a Suspended License?
---
So your driver's license was suspended. It's not always easy to get back on the road after a suspension. For most motorists, driving is not just a convenience but also a necessity for everyday life. Here's some must-know information to be aware of in order to regain your driving privileges.
Fast, Free Auto Insurance Quotes
How Can We Help You? Your ZIP Code: Continue
Suspended vs. Revoked License
What's the difference? Revoked or suspended licenses both indicate that you can no longer operate a vehicle. A suspended license can be reinstated after the suspension time period has passed, as long as all requirements have been met.
A revoked license is a more serious offense, as it signifies that your driver's license has been completely terminated. All of your driving privileges have been cancelled and cannot be reinstated. If your license is revoked, a person can no longer legally drive in that state. The only way to reinstate a revoked license is to speak with a judge or go through the driver's license process over again—with a written test and road test. Some conditions may result in a permanent license revocation such as multiple serious offenses or medical conditions.
If your license is suspended or revoked, you will receive notification in the mail and be contacted by your DMV with information regarding the suspension period and reinstatement requirements. In certain cases, you may be asked to appear in court. If you're unsure about the state of your driver's license, you can always contact the DMV to receive a copy of your driving record.
Why Might a License Be Suspended?
A driver's license can be suspended for several possible reasons.
If a driver is caught operating a vehicle without auto insurance, then there's a possibility his or her license will be suspended. In some states, a first offense may only result in a fine, while a second offense will result in a suspension.
DUI/DWI – driving under the influence will result in a suspended or revoked license
Accumulation of "points" such as unpaid fines or tickets
Refusal of a BAC test or breathalyzer
Leaving the scene of an accident
Reckless driving or excessive speeding
Failure to respond to a traffic court summons
Laws in each state may vary slightly in details, but in general, these are the standard offenses that result in suspended licenses. Check your state's laws to find out more information pertinent to your situation.
Reinstating a Suspended License
To reinstate a suspended license, you simply have to "wait it out." A suspension period can last anywhere from weeks to years and the easiest way to get your license reinstated is to simply follow the rules. Driving with a suspended license is not worth it and will have severe consequences for you. (Think: revoked license, large fines and more months without driving!) To have a suspended license reinstated you will usually have to pay a reinstatement fee, fulfill any listed requirements and demonstrate driver responsibility. All of this, of course, is dependent upon why you received the suspended license in the first place. In some cases, a defensive driving course may be required or an SR-22 form. If you are unemployed or low-income resident, a judge may waive or reduce some of the reinstatement fees.
Certain states do have restricted driving permits for those that have no choice but to drive. These permits aren't offered in all states and rarely to anyone with more than one offense, but they are an option. A restricted driver's license may allow you to drive solely to work and home, drop off your children at school or drive to necessary medical appointments. These types of licenses are very limited and have rules that should be followed strictly in order to have your driver's license reinstated as soon as possible.
Car Insurance and Suspended Licenses:
Remember, risk is a major factor in determining your auto insurance rate. Having a suspended license sends a clear signal that you are a high-risk driver. As a result, your premium is likely to increase.
If you have a suspended license and no one else is driving your car, then you may want to cancel your car insurance depending on the length of the suspension period. It probably isn't worth it to pay an insurance premium for a vehicle you are unable to operate. However, a lapse in auto insurance can result in higher rates later on.
Either way, your current car insurer will need to know about your suspended license, even if you keep your car insurance policy during the suspension period. Consider yourself fortunate if your auto insurer does not cancel your policy upon hearing of the suspension and expect your rates to increase following your recent high-risk categorization. Your state may require an SR-22 for reinstatement and depending on the severity of your offense, it can be helpful to take a defensive driving course. Some states may require this for certain offenses, but even if they don't, it may be worth it to receive a discount on your premium. If you have other members in your household who drive your vehicle regularly, you should keep your car insurance policy for the duration of the suspension. They can be labeled as primary drivers instead of you or they could try and purchase their own insurance policy for the vehicle.
Some car insurers may devoid you of coverage after they find out about a license suspension. Your status as "high risk" may leave you without auto insurance. Your best option is to shop around for coverage and compare various quotes. Some car insurers specialize in high-risk drivers so you can find coverage regardless of your situation. Even if your provider still offers you coverage, it can be helpful to see whether other companies offer you the same for less. If your car insurance rate still increases drastically, you could also switch to a car that is less expensive to insure. Additionally, you can also change your car insurance policy to only include comprehensive coverage if your automobile will be parked for the duration of your license suspension. This will protect the vehicle from theft, fires, falling trees, natural disasters, and more. This will also prevent you from accruing a lapse in coverage, which can raise car insurance rates.
RELATED ARTICLES
Auto Insurance for High-Risk Drivers
Car Insurance after DUI
At EverQuote, we know having a suspended license can cause a lot of hardship and stress. Driving privileges are a convenience that we all appreciate and they are indispensable in everyday life. Yet if you try to patiently endure the suspension period and fulfill all requirements, you'll be on the road again in no time.
Photo credit (top image): Doug Coldwell, Phil Desveaux
Photo credit (in-line): Photoblogger
---
So your license has been suspended or revoked. Now for whatever reason - maybe someone else drives the car that is insured in your name - you need to know if your auto insurance is still valid.
If you lose your driver's license, do you lose your car insurance, too?
The answer is maybe not today, maybe not tomorrow, but soon -- and at least until you can show you're getting your license back.
States, which regulate much of how insurance companies operate, don't allow insurers to cancel a customer's policy in the middle of a policy term - typically six months or one year - without a very good reason. Those reasons are typically limited to issues of nonpayment, fraud and misrepresentation.
"There are only certain states where they allow midterm cancellation due to your license being suspended or revoked," says Penny Gusner, consumer analyst with Insure.com. "What you have going for you, even in those states, is that insurance companies don't usually run your driving record in the middle of your policy term."
So if my policy is midterm, I'm still covered?
Probably, yes. But don't turn the ignition key.
Increasingly, insurers are inserting language into the fine print of customer policies to address the problem of suspended drivers getting behind the wheel.
The language typically goes something like this: If you have failed to report within 60 days that a member of your household has had his or her license suspended or revoked, then that driver would not be covered by your policy.
"Insurance companies are seeing some of the problems they're encountering and they're throwing in different exclusions as to who can drive the car, trying to control the unusual cases," says Glenn Tippy, president of the Professional Insurance Agents of New Jersey.
Of course, if you're caught driving with a suspended license, you've made things that much worse for yourself. Driving on a suspended license is a serious offense. (You automatically go into the high-risk driver category.)
"You can go to jail. You can be fined. Your car can be impounded and your suspension can be extended," says Des Toups, managing editor of Insurance.com. "And you can be sure that you've added hundreds or even thousands of dollars to your next insurance policy."
You will almost certainly face an SR-22 requirement – an insurance company's guarantee to your state that you have the required insurance coverage in place – when you get your driver's license back. You will pay much higher car insurance rates because of the offense that triggered the suspension and the SR-22 filing.
The only good news is that you have far more to gain by shopping around for coverage when you go to get insured again.
Why would a suspended driver be covered?
State regulators don't want insurance companies to automatically cancel an auto policy, even if a driver has lost his license.
That's because while one driver may make a mistake, often other drivers use the same car. Those other drivers would have no way of knowing about the license suspension.
"The basic rule for personal auto policies is: Insurance follows the car," says Tippy. "You have a contract, and it follows the car. Because people don't have perfect knowledge, insurance companies are constrained in how quickly they can take action and what presumptions they can make."
What happens to my insurance if my license is suspended?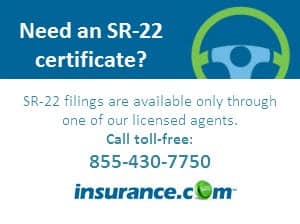 Eventually, you will lose your auto insurance.
If you are in the middle of your policy term, and your policy does not contain an exclusionary clause for driver suspensions, you likely will remain covered until the end of your term.
Keep in mind, though, that the rules are different if you're a new customer. In that case, an insurance company gets a certain amount of time - typically from 30 to 90 days - to conduct a background check and cancel your policy. Having an invalid license would certainly mark you as high risk and your policy would be canceled.
If you're an existing customer, the insurer can decide not to renew your policy for virtually any reason. This is different from a cancellation.
The renewal date is also when the insurance company is more likely to run your name through motor vehicle records and other informational databases. If that check reveals your driver's license has been suspended or revoked, you can bet the insurer is not going to renew your policy.
In all of these scenarios, the insurance company is required to send you a notice informing you that your coverage is to be suspended at some future date, typically at least 30 days out. Insurers cannot backdate a cancellation, even if you had lost your license earlier.
What happens to my car if I don't have a license?
If your suspension is short and your license will be reinstated by your next policy renewal, you may be able to simply park the car for the duration of the suspension.
If your suspension is longer, you have some choices to make. Insurance companies calculate rates based on the record of a licensed driver. If you don't have a license -- or at least an imminent reinstatement -- you can't get an insurance policy.
That's a problem.
A registered car is required to have liability insurance in every state except New Hampshire. And if you are still making payments on the vehicle, your lender will require that you keep collision and comprehensive coverage on it as well.
One option, if you are still making car payments, is to find an insurance company that will allow you to designate another driver as the primary operator and exclude yourself from coverage. Not every company will do this, Gusner says, but many will.
If you own your car outright, your other option if you lack insurance is to park the car and turn in your license plates.
What if I don't own the car I drive?
Take, for example, a young driver who gets a ticket and temporarily loses his license, yet neglects to tell his parents. The parents would continue to be covered on the auto insurance policy, even if it contains the above exclusion for known suspended drivers.
"If you don't know, and your kid doesn't tell you, then your 60 days hasn't started," says Tippy. "If there's ambiguity, if there's a lawsuit, it will be construed against the maker of the policy, which is the insurance company."
In other words, the insurance company would have to prove that whoever was driving -- a parent, a neighbor, a friend, a roommate -- knew about the license suspension and still didn't contact the company within 60 days.